About
Peter N. Vincent
Managing Partner | FAIA / NCARB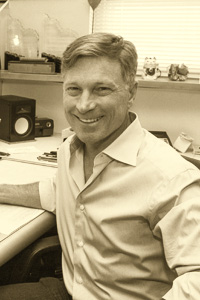 5 things you need to know about me

...and 5 things you don't
1. Over 30 Years Experience

Peter, who was elevated to the AIA's College of Fellows in 2014, has an extensive background in a variety of residential, commercial, industrial and resort projects in the Pacific Rim, North America, Europe and the Middle East. His technical background includes a former position as the Building Official for the Country of Kauai, where he was responsible for the code enforcement of the $1.6 billion construction effort in the aftermath of Hurricane Iniki.

2. Who's the Boss? He's the BOSS!

Peter is the driver behind the firm's thoughtful approach to architecture and interior design. His range of skills and experience make him qualified to lead Peter Vincent Architects.

3. He's Been Around the Block

In the early part of his career, Peter lived and worked in Boston, the Southwestern part of the United States and in Rome, Italy. He made his permanent home in Hawaii in 1990.

4. Got License?

Peter has architecture licenses in Hawaii, California, Colorado, Massachusetts and Nevada.

5. Extra Credit

Peter is a member and has served as the 2007 President of the Honolulu Chapter of the American Institute of Architects. Like his professional affiliations, Peter's community service efforts are varied and numerous. He has served on the search committee for a new Dean of the University of Hawaii's School of Architecture and is a guest design critic at the School. He is a committee member and a juror of the prestigious Lyceum Fellowship, an international student design competition and traveling fellowship associated with 14 schools of architecture in the U.S., Canada and Mexico. He has served on numerous other community nonprofit boards of directors as well.

1. Chef Peter

Enjoys cooking for family and friends on special occasions.

2. Match Point

Every Sunday XRTennis is on the agenda. It's a great way to relieve stress and tension and prepare for the busy week ahead.

3. Mr. Fitness

Peter made the prestigious Top 5 Fittest Executives list 2 years in a row by doing 85 push ups in one minute. Can you top that??

4. Rock On!


Peter has a very eclectic iTunes Library. His assistant once caught him jammin' to Gwen Stefani's "Hollaback Girl".

5. Family Man

Spending quality time with his family means the most to him. From attending his son's baseball games and piano recitals to many other school functions, Peter enjoys being around his family.